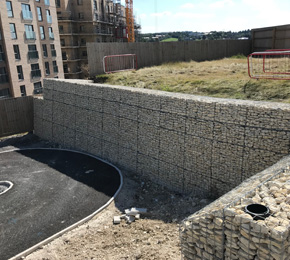 Gabion walling is a gravity retaining wall system that consists of a number of steel mesh baskets, which are filled with a free draining rock or recycled stone.
The mesh is either welded or woven with various thicknesses and coatings dependent on the environmental, design and aesthetic requirements.
The Gabion baskets are assembled and filled on site so can be constructed to suit the site layout and constraints. A number of basket sizes are available to allow a flexible build that can accommodate curves and corners.
The stone within the baskets, which is locally sourced, can be hand placed at the front to achieve an aesthetically pleasing finish that can be used in a variety of project environments.
Due to the free draining nature of the system, and the corrosive protection that can be added to the basket wire, Gabions can be used for projects that involve or are based around water courses.
Benefits of Gabions
Has a natural finished appearance that blends into the surrounding environment
A flexible system that can accommodate curves, corners, stairs and terraces
Allows full utilisation of sloping sites, maximising useable space
Quick to construct
Durable, with very little maintenance requirements. Can be designed with a 120 year design life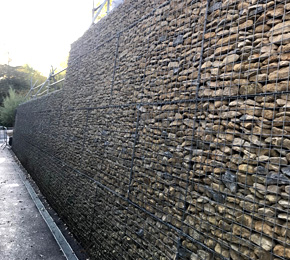 Where to use Gabions
Projects involving water courses
As a facing to soil nailed or anchored slopes or other retaining walls
Environmental and acoustic bunds
To maximise space for housing or commercial developments
Landscape features