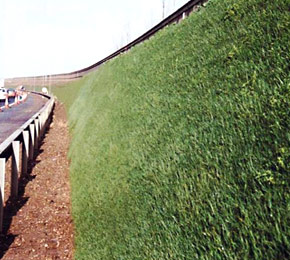 Reinforced Soil slopes are constructed using sacrificial steel mesh as a formwork, backed with geosynthetic facing fabric which encapsulates a layer of topsoil immediately behind the front face. This allows the face of the slope to be hydro-seeded or planted to give a green finish, resulting in a steepened embankment which suits your requirements, yet blends back into the surrounding countryside.
Behind the face, reinforcement grids (consisting of horizontal geogrids or geotextiles) are placed within compacted cohesive or granular material. These are specifically designed to aid compaction, eliminate face deformation and control the consolidation of fill material post construction. The opportunity to reuse site-won cohesive material within the reinforced soil block reduces potentially expensive removal of this material off site.
Various face angles up to 70° are available, designed to suit the site topography and your desired aesthetic finish.
Benefits of Reinforced Soil Slopes
Can be built with site won fill materials, allowing savings on importing fill materials and/or removing the need to remove/dispose of site excavated fill
Services can be accommodated into the design and layout
A flexible system that can accommodate curves, corners and terraces
Tolerant of differential and overall settlement
Durable. Can be designed with a 120 year design life
Quick to construct, with no structural foundation required
A variety of face angles and finishes are available
Where to use Reinforced Soil Slopes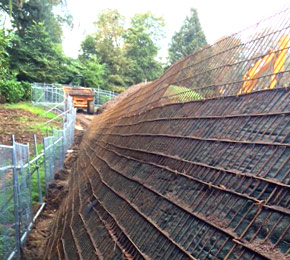 Projects where a natural, green finished appearance is required
To form steep cuttings and embankments for Highway widening schemes
Slopes for railway schemes
Environmental and acoustic bunds
Repairing failed slopes
To maximise space for housing or commercial developments