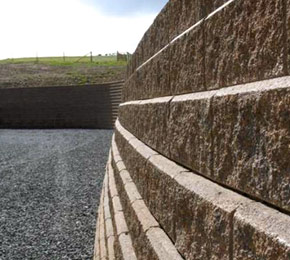 Reinforced Soil Block Walls are constructed using dry laid concrete blocks that have a positive connection with the reinforcement grids, offering a cost effective hard faced alternative to traditional concrete retaining walls.
Construction commences with the in-situ casting of a mass concrete levelling strip. The pre-cast concrete blocks are then positioned on the levelling strip and as the face is built up granular fill is placed to the rear of the blocks, compacted between the required reinforcement grids that are placed on the required courses, according to the design.
The face angle is generally vertical, or near vertical, but a number of face finishes and block colours are available to suit your desired aesthetic finish.
Benefits of Reinforced Soil Block Walls
Dry laid blocks, so no need for mortar so no maintenance
A flexible system that can accommodate corners, terraces and variation in top and base levels
Durable. Can be designed with a 120 year design life
Quick and easy to construct and the wall is ready for use immediately upon completion
A variety of finishes and colours are available
Where to use Reinforced Soil Block Walls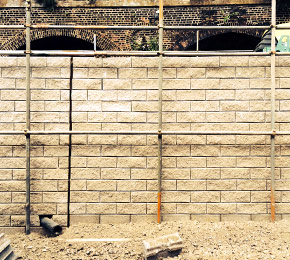 Bridge abutments and wing walls
Steep retaining walls for highway or rail projects
Retaining walls for commercial and retail outlets
Retaining walls for housing projects